Battle Rounds
Edit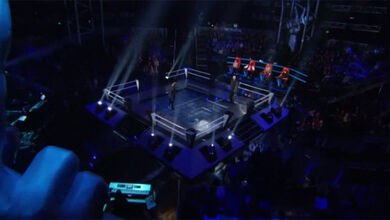 The Battle rounds help the Coaches pick there top 6. The rounds are made up of two of the same team members vs eachother. When they have finnished each Coach gets to have a say on their preformance, then their teams coach has to come up with who to stay in the compertition, if the coach can't decide then he/she can call a time out and ask their mentors
Still need help:
Edit
The coaches pair up contestants from their teams to sing the same song at the same time on stage in front of an audience. Basically, they're tasked with singing a duet.
The coaches meet with the two contestants and introduce the mentors. Keith's mentor is Megan Washington, Delta's mentor is Darren Hayes, Joel's mentor is Benji Madden, and Seal's mentor is Ricki-Lee Coulter. Together with their mentors, the coaches do exactly what their titles imply: they coach and prepare the contestants for the performance.
The stage is transformed to represent a boxing ring. Viewers will be reminded of their blind auditions and how they got to that point. Then the music starts and the battle commences. One singer will take a verse, then they'll switch, and then they'll come together for the chorus and big notes. There's also some harmonising, which always sounds great.
All of the coaches offer their comments on the performance they've just seen. They're also asked to pick who they would take through to the live shows, but ultimately it comes down to the coach whose team the contestants are on. (For example, only Keith has the power to send home his contestants — he may be swayed by the other coaches but it's his decision in the end.)
The coaches are allowed to take a 'time out' to quickly consult with their mentors if they feel the need.
The coach delivers his/her decision (after lots of praise for the person who goes home). And there you have it — one singer is through to the live shows, and then it's time to battle again!
Episode 7: "Let the Battles Begin, Part 1"
Edit
The first episode of the Battle Rounds was broadcast on 30 April 2012.
Key

Green – Battle Winner
Pink – Eliminated Artist
Episode 8: "The Battles, Part 2"
Edit
The second episode of the Battle Rounds was broadcast on 1 May 2012.
Key

Green – Battle Winner
Pink– Eliminated Artist
Coach
Artists
Song
Keith Urban
Cam Tapp
Taga Paa
"Change the World"
Delta Goodrem
Peta Jeffress
Viktoria Bolonina
"Purple Rain"
Seal
Anthony Dellamarta
Michael Duchesne
"Living for the City"
Joel Madden
Lakyn Heperi
Nick Len
"Big Jet Plane"
Delta Goodrem
Danni Da Ros
Sarah Lloyd
"Hero"
Keith Urban
Glenn Whitehall
Jimmy Cupples
"Plans"
Joel Madden
Mali-Koa Hood
Laura Bunting
"What's Up?"
Seal
Chris Sebastian
Yshrael Pascual
"Firework"
Lakyn Heperi debuted on the ARIA Charts at #10 after his performance
Episode 9: "The Battles, Part 3"
Edit
The third and final episode of the Battle Rounds was broadcast on 7 May 2012.
Key

Green– Battle Winner
Pink– Eliminated Artist